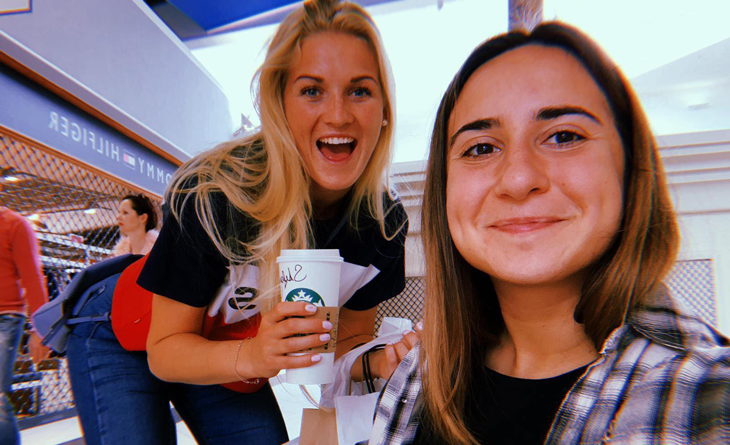 Blog #1 – Introducing Hilde & Alexa
SERVUS!
Coming at you today is our first attempt in creating a unique story for everyone at SKN to follow! Your guides on this journey will be the blonde selfie queen Hilde Gunn Olson and the small, laughing queen Alexa Ben. While we may come from two different countries, speak different languages (mainly Hilde), we have collided on the football path in the small, but admirable town of Sankt Pölten. We are your average, basic football players who care tremendously about social media and all it has to offer, yes we LOVE to Instagram and Snapchat! Since football is sort of working out for us, we have decided to take our talents to blogging, and we hope you enjoy the posts, pictures, and videos we have to offer. This will give you a look into our lives surrounding football, travel, food, coffee, and just plain old hanging out with friends! Before we dive right into the fun stuff, we will introduce ourselves and explain our reasons for arriving to play football in Austria.
Why Austria ? …. Is the main question I receive on a daily basis when I tell people I play professional football for SKN! You know what I say …. WHY NOT!! Originally from Chicago, also know as the Windy City, I knew nothing else about the world besides Chicago… literally I grew up and went to school in the same city for all my life, don't get me wrong I love my home, but I wanted to get out in the world. I knew I wanted to continue playing football, so I began my search. I found an agent to help me and soon enough SKN reached out with an offer letter. To be honest I had no idea where Austria was on the map, but it was an opportunity that I could not resist. I graduated from DePaul University in June 2018, and shortly after I arrived at Vienna airport in July 2018 to began my career. I haven't looked back since and, the time spent here so far has been an excellent experience. There is lots more to come, which I hope to share with you all!
From butterfly, to HO, to helga to blondie ….are just some of the nicknames I have received while traveling around the world. While HO may look suspicious on the outside, it was just my initials printed on my training gear in England, don't get too confused! But anyway, I have become a lover of travel and challenging myself. I started my career in Norway, which is the best country in the world I might add, then continued around the world in countries such as: Sweden, England, Cyprus and now Austria.
Last summer I started my new adventure. Not only did I want to take new steps as a football player but I wanted to get acquainted with new a culture and language. The first German phase I learned was " ein groß caffe late bitte " and not a day goes by where I don't use this phrase, yes this might be my favorite quote I have learned so far. It has been a whirlwind of thrilling emotions since I arrived in Austria and the best has yet to come!
With a little introduction into who we are and how far we come, we hope you follow our blog posts and enjoy our journey with us!
You can follow us on Instagram
@alexaben
@proffbeuaty
separately or follow our blog page @adventures_helga_lex